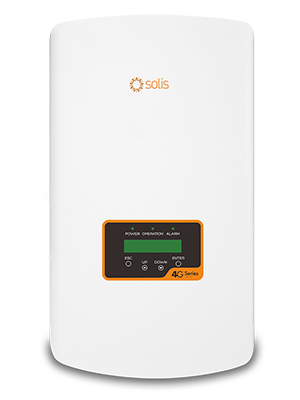 Solis Inverter
We were one of the first to enter the Australian market and continue to assist our customers to harvest the sun's energy. Solis is a Spanish name derived from the Latin sol solis, literally meaning "SUN". Solis Australasia are very proud to be delivering the very latest in Solar inverter technology from Ginlong Technologies in the form of the new Solis range of inverters. The Solis inverter product range has the benefit of more than 20 years of technical development and improvement resulting from the experience and determination of the Solis engineers to produce the very best product available.
Solis is backed by a locally supported industry standard 5 year 'out of the box' Warranty. You also have the option of purchasing plus five years, for an extended 10 year Warranty. This is available on all Solis inverters through our wholesale network. The Solis products are engineered to deliver long and reliable service. Service and assistance is available from our locally based office during normal office hours five days a week.

Simply leave your details below and we'll get back to you as soon as possible.
sandeep manohar
Very professionally done. Would recommend it to everyone. Quite happy with the product and the production it is giving.
Troy Kirchhoff
Thanks to all the crew at Techno Solar. Good service and prompt installation, at a great price... Don't hesitate. Best Regards Troy
N Modi
Excellent service. Reasonable price. A quick turn around and job was done to the satisfaction. Left site clean and tidy.
Nilesh P
Excellent job done by techno solar team, really happy with work from the beginning got quote to install done , very comprehensive information provided. Highly recommended to all friends and relatives.
Brian Finlayson
Reliable all round service every step of the deal--really good installation crew. very happy with the outcome.
hiren patel
I have install two separate Solar system with them , Great customer service with price beat guarantee , they apply everything behalf of me. their electrician was friendly, he explains everything to me and advised how we can saves on electricity bill.