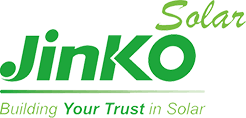 Jinko Solar Panels
Jinko Solar is a global leader in the solar industry. Jinko Solar distributes its solar products and sells its solutions and services to a diversified international utility, commercial and residential customer base in China, the United States, Japan, Germany, the United Kingdom, Chile, South Africa, India, Mexico, Brazil, the United Arab Emirates, Italy, Spain, France, Belgium, and other countries and regions. Jinko Solar has built a vertically integrated solar system product value chain, with an integrated annual capacity of 5.0GW for silicon ingots and wafers, 4.0GW for solar cells, and 6.5 GW for solar modules, as of December 31, 2016.

Simply leave your details below and we'll get back to you as soon as possible.
sandeep manohar
Very professionally done. Would recommend it to everyone. Quite happy with the product and the production it is giving.
Troy Kirchhoff
Thanks to all the crew at Techno Solar. Good service and prompt installation, at a great price... Don't hesitate. Best Regards Troy
N Modi
Excellent service. Reasonable price. A quick turn around and job was done to the satisfaction. Left site clean and tidy.
Nilesh P
Excellent job done by techno solar team, really happy with work from the beginning got quote to install done , very comprehensive information provided. Highly recommended to all friends and relatives.
Brian Finlayson
Reliable all round service every step of the deal--really good installation crew. very happy with the outcome.
hiren patel
I have install two separate Solar system with them , Great customer service with price beat guarantee , they apply everything behalf of me. their electrician was friendly, he explains everything to me and advised how we can saves on electricity bill.